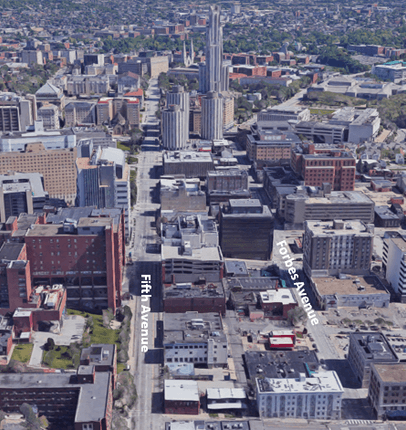 Founded in 1924 by the Schwartz & Coyne families, Oakland Real Estate Company manages for its partners a portfolio of retail/restaurant, technology, residential and parking lot properties in the Oakland community of Pittsburgh, Pennsylvania. We currently have technology and retail space available (click here to view).
Oakland Real Estate Company's expanding technology campus includes a co-working space and dedicated offices for well known start-ups and larger companies in the areas of cybersecurity (For All Secure), AI-translation services (Unbabel), and innovation marketing (Innovate PGH). We have also previously provided local Pittsburgh offices for Silicon Valley companies such as, Yelp, Inc. and Amazon. The technology spaces have been designed by internationally recognized architect John Folan, AIA, LEED AP BD+C, Head and Professor, Department of Architecture, Fay Jones School of Architecture and Design, University of Arkansas, previously a Professor of Architecture CMU and Principal of FolAN.
Oakland Real Estate Company is looking to diversify its tenant mix and welcomes inquiries from potential new tenants. We are preparing to lease several new spaces, including the King's Court Technology Space. Originally built at the turn of the 19th century, King's Court is a state of the art facility available for lease.
For more information on retail and tech space availability, please contact Henry Schwartz, Co-Managing Partner, Schwartz Properties and Oakland Real Estate Company. Henry@orecpgh.net or 215-880-0952.
Carnegie Mellon University
University of Pittsburgh Medical Center
The Oakland Retail Market- Oakland is home to the University of Pittsburgh, Carnegie Mellon University, University of Pittsburgh Medical Center and a number of world renowned cultural institutions. Over 100,000 people spend some portion of their day in Oakland, including students, residents, faculty/staff and visitors who spend in excees of $300 million a year in the commercial district. For more information on the Oakland market please see the Oakland Retail Market Study (click here to view).
Oakland Innovation District- The universities, medical center and technology companies in Oakland help drive the emergence of Pittsburgh as a world class innovation economy and is home to the Oakland Innovation District (click here to view). Oakland is also home to a robust Business Improvement District which is comprised of roughly 200 property owners, businesses and organizations that are located within the neighborhood - including UPMC, the University of Pittsburgh and Carlow University (click here to view).
Pittsburgh has been rated one of the top cities in America in over 90 "best of "ratings since 2014 (the full list of accolades can be viewed at www.visitpittsburgh.com). Among the awards are "Most Livable" (Forbes), "Coolest American city you haven't been to" and "among 10 cities where techies should consider moving" (Huffington Post), "Best all-American vacation" (The Travel Channel), "2nd best city for millennials" (CNBC), "Most fun city in America" (Wallet Hub) and the "NextTech City" (Pittsburgh Business Times).